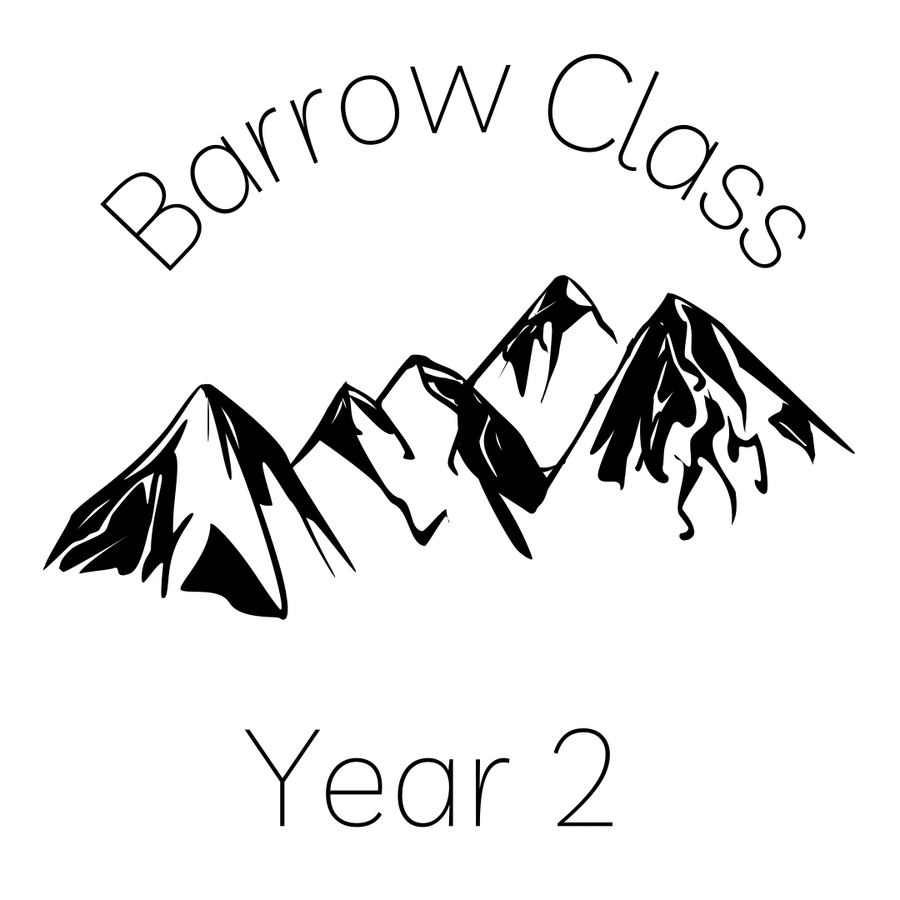 Welcome to Barrow Class!
We are a lovely Year 2 class made up of 15 children.
Our class teacher is Miss Tweddle and our teaching assistant is Mrs Davis.
We will join Haystacks Class on Monday afternoons and we will join Dodd Class on Tuesday, Wednesday, Thursday and Friday afternoons.
Please do check our page for regular class updates. We will include lots of pictures of what we get up to throughout the year.
Watch this space!
We had a jam-packed Autumn Term in Barrow Class.
Take a look at some of the things we did.
Barrow Class had a week filled with Christmas activities. We made calendars, cards and snow globe baubles for our trees. We also painted wooden snowmen made by Miss Tweddle's Grandad.
All of the children enjoyed the Christmas Disco provided by KABS. We had a great time dancing and we loved the magic show. Abracadabra!
Barrow Class looked fantastic in their jumpers for Save the Children's Christmas Jumper Day.
Visit to the New Bookshop and Cockermouth Library
Barrow Class had a wonderful time visiting the New Bookshop and Cockermouth Library. We were fortunate to listen to four stories at the bookshop and then all children were able to check out a book from the library. They were all very excited to get back to school to read their books. The trip aimed to encourage the children to read more books and now all of Barrow Class have their own Library Cards so they can borrow lots of books from the library.
Bread Experiment - Science Week
During Science Week, we looked at the importance of good hygiene and how it can improve our health. We conducted an experiment with bread and handwashing. All of the children touched their own slice of bread to see what would happen to the bread. Some children didn't wash their hands, some washed their hands with water and some washed their hands with soap and water. We made predictions as to what would happen to the bread. We had to wait over a week to see changes in the bread. Here are our results.
The children all looked fantastic in their Children in Need outfits.
Eat Well Plates - Science Week
During Science Week, we learned about the importance of healthy eating. We focused on the different food groups and the impact those food groups can have on our bodies. We each designed a meal for Mrs Bewsher and she chose her favourite meal. The winning meal was a chicken dinner. It was wonderful to see all of their ideas.
We looked really scary in our Halloween costumes.
We were really lucky to be visited by a local author. As a class, we had discussions about friendship and our successes. We were grateful to receive a copy of the book so we can re-read it as a class.
We had a fun time learning and practising the skills needed to play wheelchair basketball. Thank you to Nat Pattinson for teaching us.
We enjoyed a Key Stage One trip to Muncaster Castle as part of our Castles history topic. We learnt about the development of the castle since it's construction and what it was like to live in a castle.
We visited the owls and hawks in the aviaries and enjoyed learning about their habitats and diet.
We loved playing on the adventure playground after lunch which was so much fun.
We navigated the Meadow Vole maze by working as a team and answering different questions about the local wildlife.
And finally, we went to the Sky Hunters bird display which completely blew us away. What an amazing performance by all of the different birds. We had a fantastic trip and had so much fun!