16.10.19 KABS Halloween disco
16.10.19 Class 6 assembly
Class 6 led a fantastic assembly for pupils, staff and parents based on the Tudors. Well done to all Class 6 pupils!
10.10.19 #Helloyellow fundraiser.
We raised a grand total of £140 for the charity Young Minds which support the mental health and wellbeing of children and young adults. Everyone looked fantastic in their yellow clothing and accessories.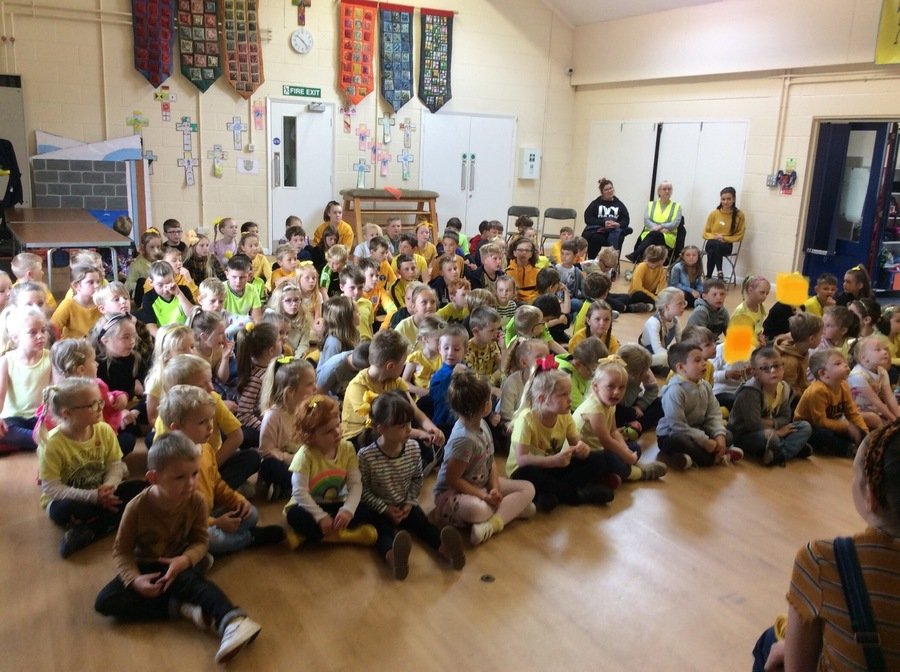 09.10.19 Halloween/Bonfire Safety talk
We invited our local PCSO into school to talk to our children about how to keep safe when out in the village over Autumn and Winter, especially on events such as Bonfire night. She gave our pupils lots of good advice and useful tips.
07.10.19 Our Harvest Festival in Church
We had a lovely morning in church to celebrate the Harvest Festival. Each class performed a poem/song or presented some facts about Harvest. We held a sale of all of the donations of fruit and vegetables from our pupils and parents and managed to raise £62 which will be added to the funds raised by church and sent to The Bishops Harvest Appeal. All food donations which did not sell will be donated to the local food bank.
25.09.19 Our school is currently trying to establish a link with a school in Uganda. We enjoyed a super assembly delivered by Gilda Wells and Tony Magorrian who are involved in raising money for health care centres and schools in Uganda through the charity DEWODE. Our pupils have been asked to collect 'rag bags' to help raise funds throughout the year.
24.09.19
John Wilson delivered an assembly on behalf of the charity Mary's Meals. Our children have been invited to fill a used backpack with a range of items to help children in Malawi get the most out of their education.