2014-2015
26/06/15
| | | |
| --- | --- | --- |
| Silver awards for our Year 6's at Cockermouth School's Maths Challenge. | | These boys all achieved football awards at Cockermouth Club. |
| | | |
19/06/15
| | | |
| --- | --- | --- |
| Joshua received another stripe on his yellow belt at Tiger cubs. | | The Kwik cricket team who were narrowly beaten by Fairfield in the semi-finals of the Allerdale Kwik Cricket Competition. |
| | | |
| | |
| --- | --- |
| Joe and Holly have received their gymnastics certificates at their gym club. | |
| | |
05/06/15
Year 5 with their trophy following their verse speaking success in the Whitehaven festival.
Boys who took part in the Carlisle United football coaching last term.
James received his Scouts Certificate for completing six Challenge badges, then was set a personal challenge for which he received a Bronze award.
Jessica was awarded Distinction for her perfoemance at the Whitehaven Music Festival in the 'X Factor' session. Well done! She was also awarded a Distinction in her first exam with the London Academy of Music and Dramatic Art.
Our cup winners from the Whitehaven Music Festival. Well done to Karen, Faye and Bethan.
Meya and Faye were awarded their Level 1 and 2 swimming certificates at their swimming lessons recently.
08/05/15
Verse Speaking
Football
17/04/15
| | |
| --- | --- |
| James & Alex share a Beaver award. | Cameron received his certificates for attending the Easter 'Chance Camp' for Gifted and Talented Sports abilities. |
| | |
| --- | --- |
| Joshua celebrates receiving his Little Tigers certificate. | Samantha received her certificate for sky diving/wind tunnel! |
| | |
| --- | --- |
| Faye was awarded her Rainbow pet badge! | |
27/03/15 - Children from Year 1 upwards shared their Cheer leading routines with us that they have been practising during lunchtime activities.
20/03/15 - Members of the Saturday Cycle club received bells for their bikes to celebrate cycling to Whitehaven.
| | |
| --- | --- |
| | |
| Bethan received a Brownie badge. | |
13/03/15
Emily took part in the G&T Chance Camp at Netherhall School during the half term break.
06/03/15
All the children and staff came dressed as a book character to celebrate World Book Day.
These children have achieved their Level 3 bikeability.
27/02/15
Lucas took his Beaver promise this week.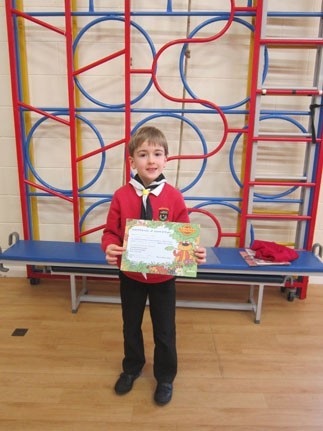 | | |
| --- | --- |
| Charley received her Level 6 gymnastics badge during half term. | |
| | |
| | |
| --- | --- |
| Lexi and Charley took part in World Peace Day at Rainbows. | |
| | |
13/02/15
Class 3 Assembly - The theme was 'Working Together' based around the story of 'Mr. Wolf's Pancakes', linked to the start of Lent next week. Lots of parents came to watch and really enjoyed listening to the loud voices and excellent reading.
Carlisle United certificate holders for attending their After School football club. Missing from the picture are Evan, Zach and Owen.
06/02/15
Danny goes to Little Tiger Cubs after school where he does lots of exercises and has lots of fun!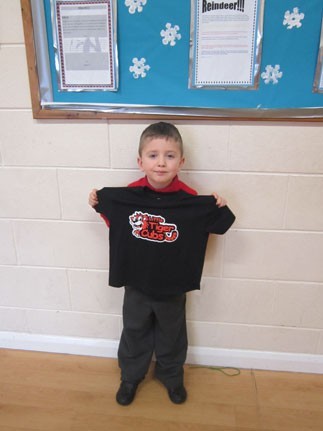 Holly got her Level 1 swimming certificate.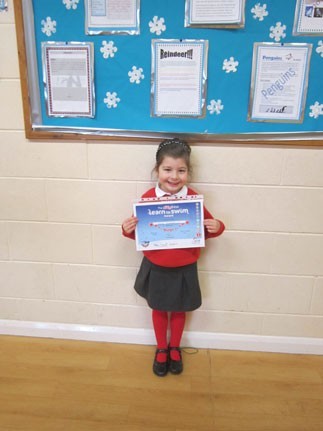 30/01/15
Bethan and Lauren are dancers in the Panto at the Kirkgate centre in Cockermouth.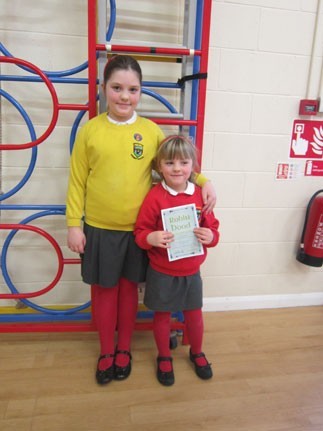 Faye didn't get the Golden sweatshirt but did a really good piece of Big Writing so she's going to come to the tea party too.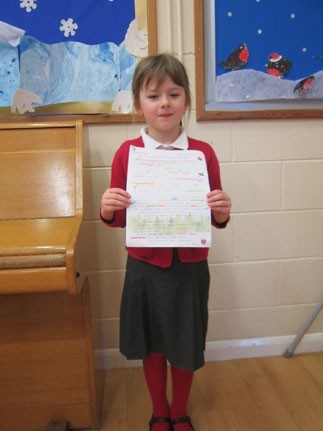 Jake and Maicie took a card on behalf of school to Karen in the bakery. She is closing the village bakery this weekend and we will miss her.
23/01/15
Meya and Charley received their Rainbow Snowman Challenge badges.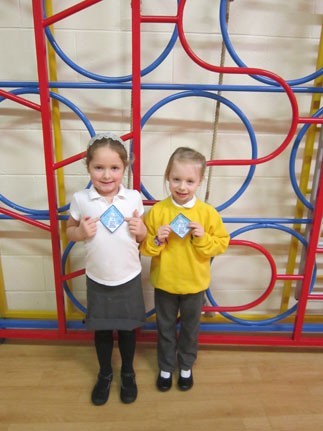 16/01/15
Children from Year 4 and Year 6 received their Level 1 Bikeability awards.
12/12/14
Bethan received her Brownie badges.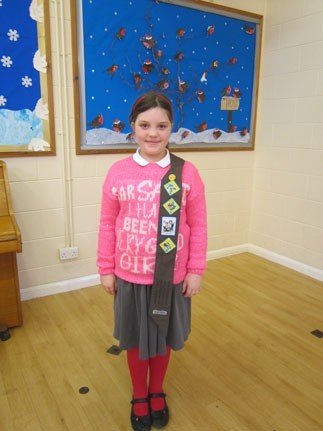 Bethan and Lauren received swimming awards.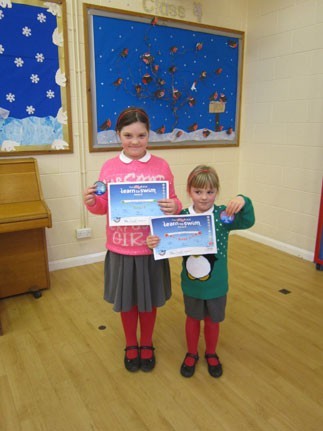 Three children received green awards for lunchtime activity involvement.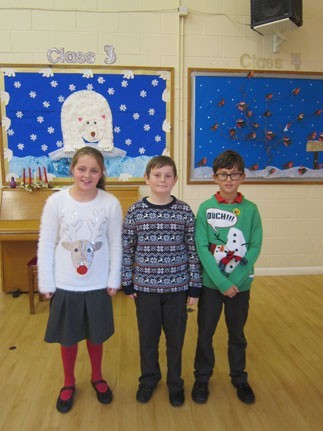 28/11/14
Some children in KS2 have been having guitar lessons and, during Celebration assembly, they shared their playing with us.
14/11/14
Reward slips are given at lunch time for children who are; helpful, kind or behave well.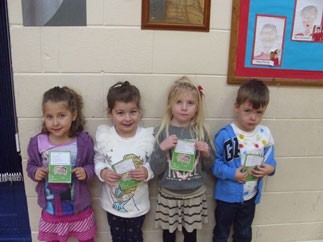 10/10/14
I CAAN 'Independent Community Autism Activity Network' - Libby, Ashlee, Jayden, Evie and Jethro, all completed the half mile fun run as part of the Cumbrian run last Sunday, raising money for I CAAN, a locally based charity who are also Cockermouth Sainsbury's chosen charity for the year. Well done!
24/10/14
26/9/14
Lots of children took part in the library Summer reading Challenge.
New School Council members. Well done to all of them!
19/9/14
| | |
| --- | --- |
| Well done to Lauren, Faye, Hannah and Teagan for achieving their Outdoor badge from Rainbows! | Teagan and Rhiannon both completed the Summer reading challenge during the school holidays! |
12/9/14
| | | |
| --- | --- | --- |
| Brogan and Bobby play rugby | Emily and Erin took part in the | Alex received the 'best |
| for Broughton Red Rose. | summer library reading | improved player' award at |
| | challenge. | Broughton Red Rose |
| | | presentation night. |
| | | |
Lots of our children took part in Chris Wright's Summer Chance Camps held locally and had a great time.