Topic
World War 2:
Class 6 performed a super assembly for pupils, parents and staff based on World War 2. During the assembly, pupils shared facts about: rationing, the black-out, the blitz and a role play based on evacuation. A very informative and enjoyable assembly. Well done Class 6!
Using computers to complete an 'internet treasure hunt' based on: What was life like for Jewish people during the Halocaust?
We had a fantastic day on our 'Evacuee day'. All of our Key-Stage 2 children dressed as evacuees and caught the train from Marport station to Whitehaven. We were met by Alan Gillen, from the Beacon museum, who held an interesting World War 2 workshop, based mainly around our local area. We also got to have a look around the museum and could see what it was like to sit in an Anderson shelter.
Living in London:
In the build-up to our class residential trip to London, we linked our class text (The London Eye Mystery) with our topic work based on our capital city. We are very excited about spending time in London, to visit the landmarks we have studied during our topic work. Take a look at our super classroom display....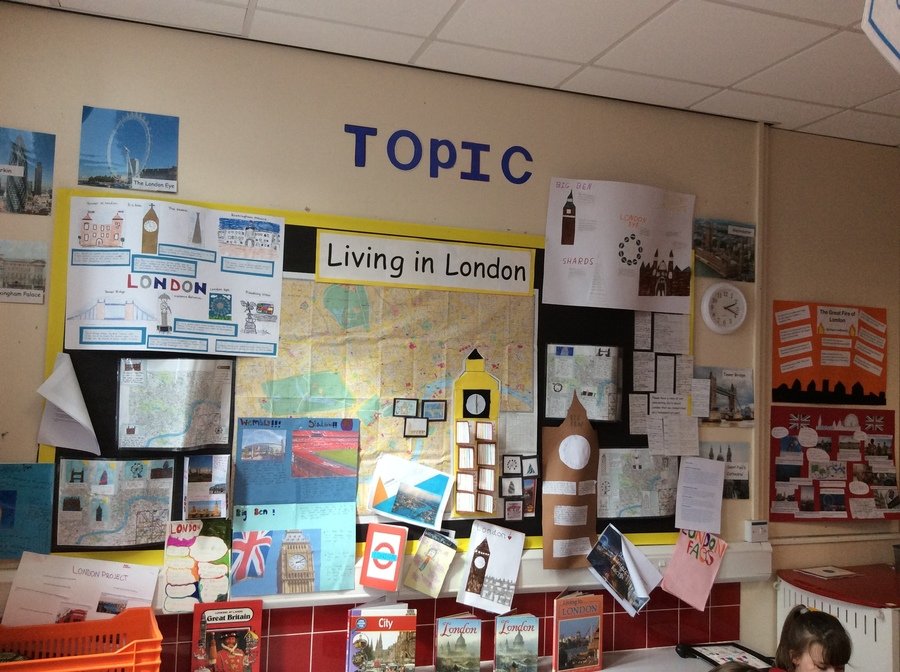 Living on the Streets:
In this lesson, children sorted some cards into two piles: What are the NEEDS of children across the world and what children in the world may WANT. Some of the cards included things such as: clean water, a home, protection from abuse, protection from discrimination, healthy food, fashionable clothes, a mobile phone etc. It was an excellent way to get children to think about and discuss what rights children have across the world.
'Life on the Streets' topic:
It has been really interesting to find out what life is like for some children living on the streets all around the world and made us very enthusiastic about trying to raise money for a homeless charity. It was great to invite Rachel Holliday into school who runs a local homeless charity called Calder Wood House. She explained the different circumstances that people can find themselves in and showed us different ways to raise money. She even brought in some of the coffee that the charity produces to raise funds.
Year 5 Forest School sessions:
Year 5 have been having fun at our Forest School site at Wythop...