Ancient Greece
It has been lots of fun so far studying the Ancient Greeks. We really enjoyed our Ancient Greek day in class where we got the opportunity to dress up in Greek togas, use clay to make pots and vases, try traditional Greek food and learn all about Greek traditions.
Year 5 pupils worked on a project based on exploring Ancient Greek sports. They researched the rules of their chosen sport and even has the chance to try it. Finally, they used the Greenscreen app to create these super presentations to inform all of the other children about what they had found out.
Global Issues and Fairtrade
Children weren't sure what to expect when this topic was introduced but they are now fully engaged and eager to learn more. Even doing extra work at home to share with the class!
We linked our topic work with our English unit based on persuasive writing. We created campaigns to help reduce plastic pollution in our local area. These will then be tweeted to wildlife campaigners such as Greenpeace. We want to share our message with as wide an audience as possible so that we can help to make a real difference!
Brockhole Learning water workshop with United Utilities. We had a fantastic afternoon learning about the water cycle, where our water comes from, where our waste water goes and how much water we use. We also made water promises to try and save a little more water each day. Jenny will be back in 6 weeks to see how we have done.
Children have been learning about deforestation and the impact this is having on our planet. We looked at a range of arguments for and against deforestation and then held a friendly debate in class. We decided that ultimately, deforestation is killing our planet and we all need to do something about this!
Children explored causes for animal endangerment by researching different species around the world.
Using what we have learnt to formulate a timeline of events throughout The Great War.
We took part in a Tommy Talks workshop which gave us an opportunity to study and handle real WWI artefacts. Some of the items gave us a deeper understanding of what life was like for those living in the trenches and fighting in the war including fragments of shrapnel which have been collected from the front lines.
What a super class assembly based on World War One! We received lots of positive comments from pupils, parents and staff who were very impressed about the knowledge the children have about the Great War and their super performance skills. Well done Class 6!
Our beautiful World War One class display...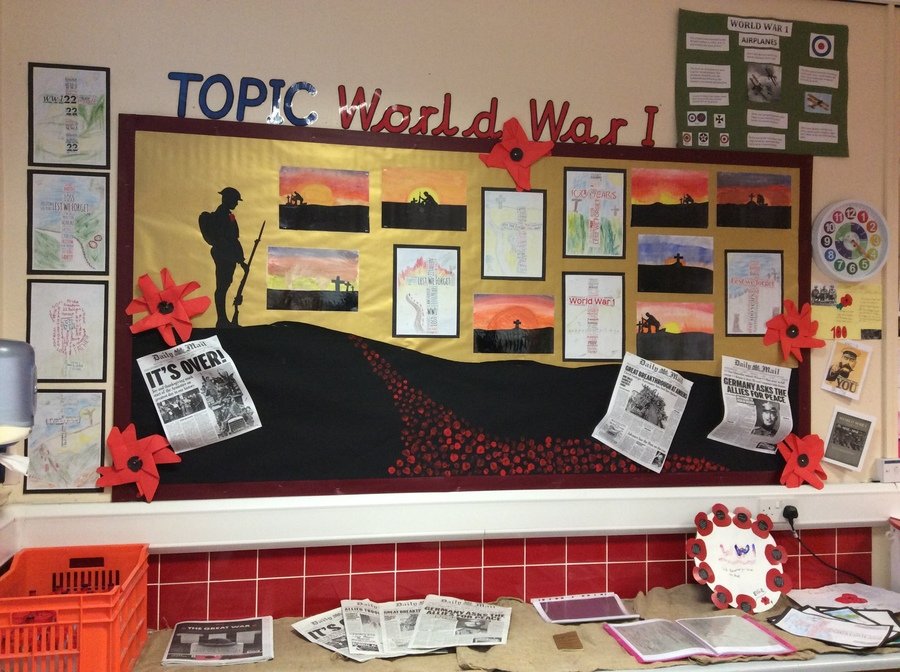 On our trip to the Beacon last week, we discovered that during WWI, children collected eggs to send to soldiers on the front line and in hospital. They would write their names and addresses on the eggs so that the soldiers knew who had sent them. We used information from Mr Dobie's book to find that around 1700 eggs were sent from children in Broughton in one month. Isn't that amazing!
A Brave New World visit to The Beacon Museum in Whitehaven. This was a great opportunity to study and handle artefacts and learn more about local fallen soldiers by visiting the Archive offices. We found examples of our artwork displayed in the gallery and our plastic bottle poppies will be on display on the grounds for Remembrance Sunday.
We took a walk to our local church yard to see the War Memorial, as research for a WWI project we will be taking part in at The Beacon in Whitehaven.
We looked at some of the familiar names of those fallen from our local community and listed words that came to mind from the memorial stone. Some of these words included respect, bravery, freedom and pride.
We have been studying how propaganda posters were used during the War. We then went on to design some of our own.
Labelling the features of WWI trenches. We have been learning about what life was like for a soldier in the trenches.