Quran
We learned how Muslims wash before they read the Quran, we had a go ourselves.
Special Books
We are learning all about different special books this half term. We started the unit by looking at which books are special to us.
Easter
We went to visit Godfrey at the church to see what happens in Church at Easter. We saw the big cross at the back of the Church that's going to be used during Good Friday celebrations. We noticed the alter cloth was red, Godfrey told us this is to remember Jesus' suffering. He also pointed out that we usually have flowers at church, but during Easte time they are taken down to remind us that it is a sad time. Godfrey also gave us our very own palm crosses! They help Christians remember that the people of Jerusalem welcome to Jesus with the leaves when he arrived!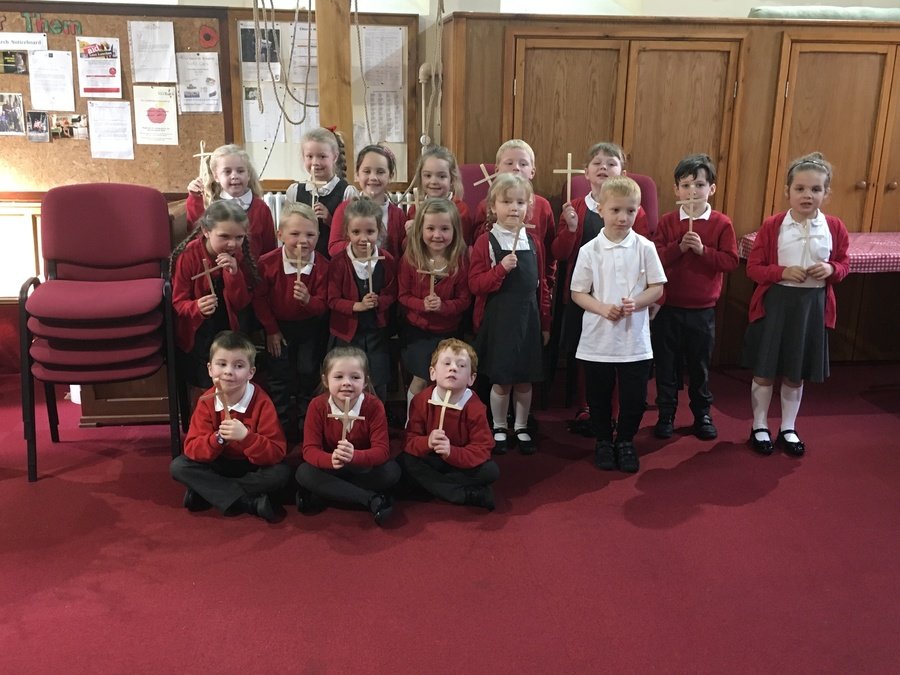 Home and Family - Judaism and Christianity
Mezuzahs
We have been learning why a Mezuzah is important to a Jewish family. We designed our own mezuzahs using pictures to help us spot common features. We really liked drawing the Star of David!
We even had a look at a real mezuzah!
We learned that both Christians and Jews believe in God. We then learned about their beliefs about God and what he's like. We reflected on this by thinking about where God might be.
Christianity - Giving and Receiving at Christmas
We went to visit the volunteers at the Keswick warehouse for the shoebox appeal. We got the opportunity to pack some boxes as well as learning what they do.
We were learning how Christians give at Christmas, we made our own shoeboxes in groups and drew pictures to go in the box.
We've been learning about the stories Jesus told- here we are acting out 'the Good Samaritan'.
We went to visit Godfrey over at the church. He told us the story of Mary and Martha which is represented on a stained glass window in the back of the church.
We loved the stained glass windows in the church and we decided to make our own.