Autumn 2
Our Visit to The New Bookshop
As a class we visited The New Bookshop in Cockermouth to pick up our monthly collection of picture books. Whilst at the bookshop we listened to three fantastic story, our favourite being Whats in the Witches Kitchen. After listening to the stories the children are given a chance to independently select and look at books in the shop.
The Three Billy Goats Gruff
Our book focus for the first part of this half term is The Three Billy Goats Gruff. The children have enjoyed learning about this story, especially when we spotted a real troll next to the bridge on the way to The New Bookshop! We have been using actions to help us re-tell the story without reading the book or looking at pictures. In PE we built a bridge using our climbing apparatus and acted out the story. In our outside area lots of children have been busy building bridges and houses using our de-constructed role play items and wet sand for concrete.
Children In Need
For Children In Need all the children came into school with wacky hair and colourful clothes. We each paid £1 to the Children in Need charity. As a class we spoke about why some children needed the money and how grateful we are of all the things that we have.
Letter from Santa
This week we came into school to find a letter delivered from Santa with our elf. Santa's letter told us that he had brought us a present it was Stickman! We needed to look after him because he has lost his Sticklady Love and his Stick Children Three. We have decided as a class to look after him. However, we were all very intrigued about what our elfs name was. We have all written a letter to Santa this week asking him. Hopefully he will have time to reply to us.
Whinlatter Forest Class Trip
We have had a fantastic trip to Whinlatter Forestry Park. Firstly we all decorated and created Christmas decorations using natural materials such as pine cones, sticks and acorns. We also used glue, glitter and pom-poms. After creating our decorations we went on a walk to find the Gruffalo, we had to walk up some very steep hills but we all made it to the top to see the Gruffalo! Before lunch we all had the chance to meet Father Christmas, he told us all about his reindeer's and how reindeer love to eat lichen. Lots of the children have collected their own lichen for Christmas Eve. After lunch we had a short play in the playground and headed back to school.
Christmas Jumper Day
On Friday we all came into school in our Christmas jumpers to raise money for Save the Children charity. It was great fun looking at all of the different designs, with sparkly sequins and even one that played music!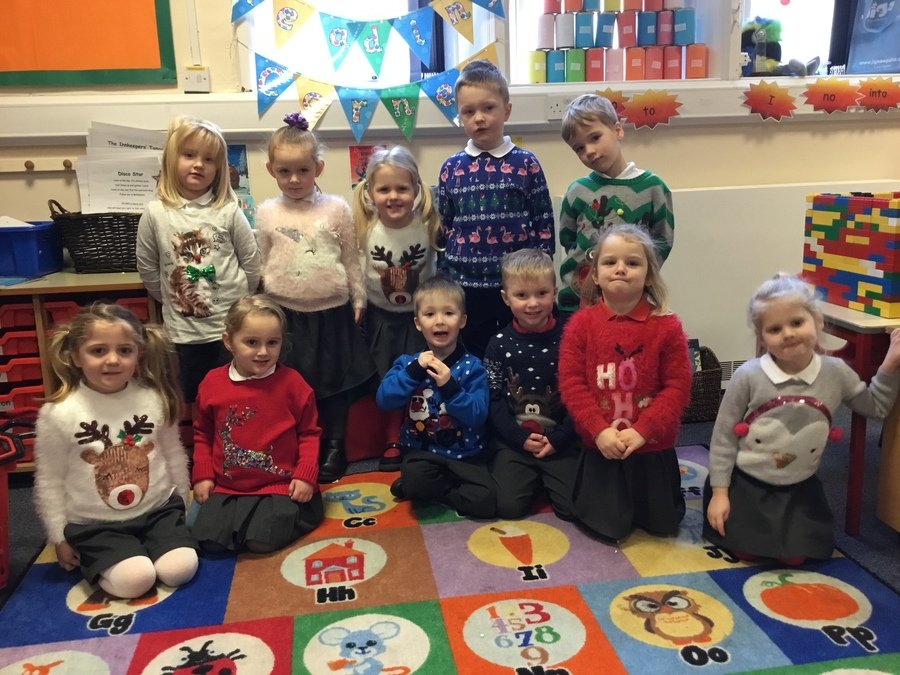 Christmas
Class 2 have been very busy during the lead up to Christmas, In Forest Schools we have created a number of different Christmas decorations using natural materials. In the classroom we have been independently writing our own Christmas cards to family member and friends, creating orange and clove decorations and much more.