Class 1
Class 1 at Broughton Primary School is part of The Foundation Stage Unit. Mrs Wynne is the Nursery teacher and she is helped by Mrs Greenbank and Miss Georgia Forster.
All children follow the seven areas of learning and development as set out in the new 2012 Early Years Foundation Stage curriculum.
Personal, Social, Emotional Development
This area is the key to a child's successful development in all other curriculum areas. We help our children to develop a positive sense of themselves, and others; to form positive relationships and develop respect for others; to develop social skills and to learn how to manage their feelings; to understand appropriate behaviour in groups; and to have confidence in their own abilities.
Many of the activities available in the classroom encourage co-operative play, sharing and turn-taking.
Physical Development
This area covers both fine and gross motor skills.We provide opportunities for all children to be active and interactive; to develop their co-ordination, control, and movement. children are also be helped to understand the importance of physical activity and to make healthy choices in relation to food.
Communication and Language
Children are given opportunities to experience a rich language environment; to develop their confidence and skills in expressing themselves and to speak and listen in a range of situations. Enhanced provision, such as drama, role-play and visits to the wider environment are used to stimulate learning in a fun and engaging way.
There are lots of opportunities within different role play situations for the children to develop their language and communication skils.
This bakery role play was inspired by a visit to the real bakery in Great Broughton as part of our 'harvest' week.
Literacy
Literacy is one of the specific areas of learning in the EYFS. It is subdivided into Reading and Writing and during your child's pre-school year concentrates on developing the necessary skills which will position them well to become competent in early reading and writing.
We often use a theme or play situation to bring reading and writing into meaningful contexts. In the photographs below, the children had been inspired by role play games based on our 'explorer's box'. They are busy reading guide books and maps and then progressed onto making their own maps.
The children have a wide range of different writing and mark-making materials available to them to explore in their own time.
Maths
Children have opportunities through play and guided activities to develop and improve their skills in counting, understanding and using numbers, calculating simple addition and subtraction problems; and to describe shapes, spaces and measures. Much of the work is practical and the outdoors are used as much as possible.
We often enjoy maths learning opportunities outside. Here, the children used the outdoor space to play a game throwing 'frog' beanbags through different sized hoops, and recording their score using compare bears. They then counted their total score at the end to see who had collected most compare bears!
Understanding the World
Children learn how to make sense of their physical world and their community through exploring and observing. They find out about people, places, technology and the environment.
We love spending time in our eco-garden where we have the opportunity to explore the natural world, observe changes over the year, and take part in gardening activities.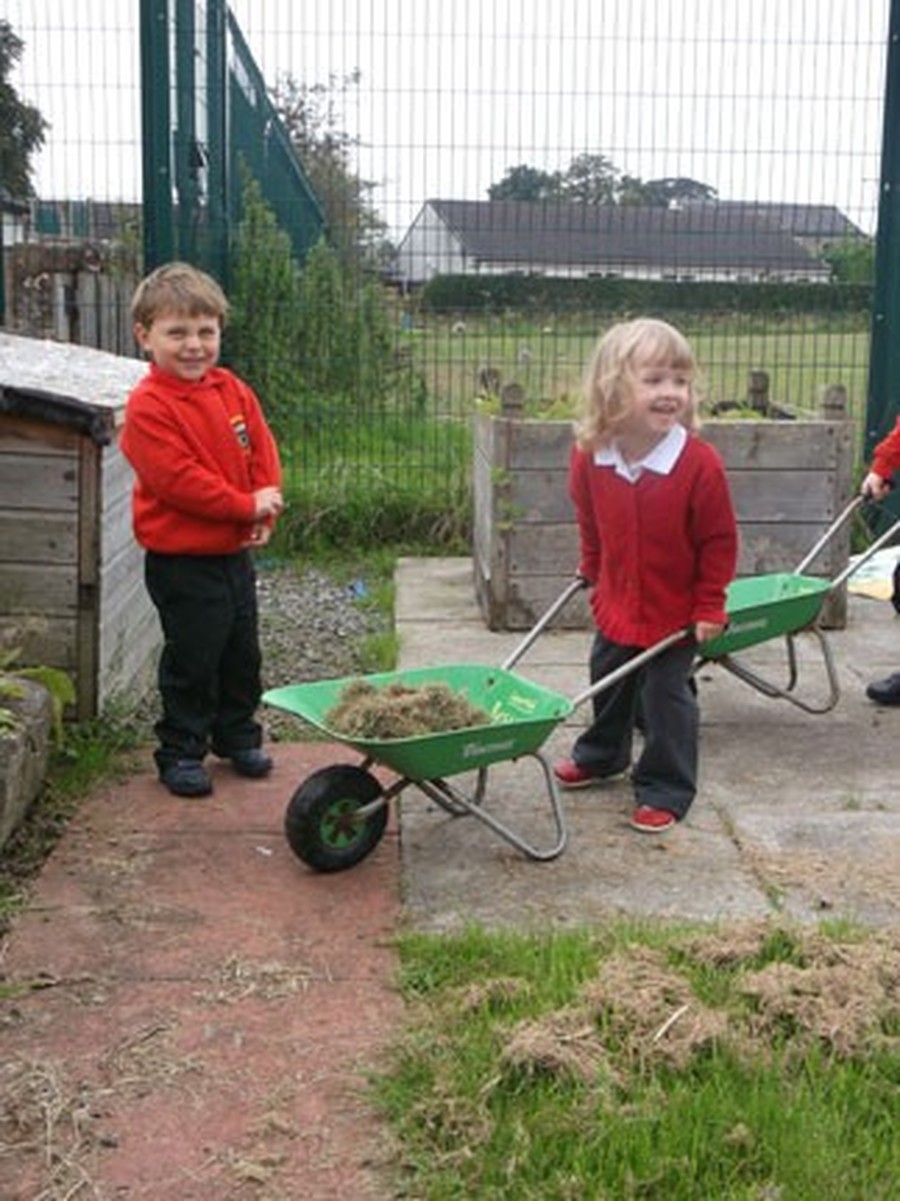 We learn through first hand experiences, such as exploring the properties of water through play and experimentation.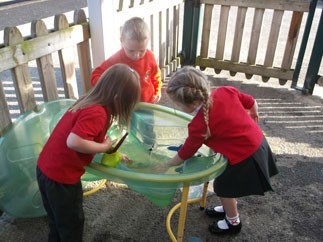 Many of the children were showing an interest in things which roll and slide down different surfaces. Resources were put into place to allow them to extend their play and exploration. They did the rest for themselves!
We use all of our senses to explore and observe the world around us. As part of our work on 'harvests' we looked at, felt, smelled and tasted different sorts of bread that are enjoyed around the world.
Expressive Arts and Design
Children are able to have hands on experience of a wide range of materials as well as opportunities to share their thoughts, ideas and feelings through activities in art, music, movement, dance, role-play and design technology.
All forms of role play is encouraged. The children are also encouraged to use available resources to make props to support their role play.