Friday 21st July
We 've had a lovely day in school saying goodbye to our Year 6 leavers and also to Ms Ford and Mrs Wilson.
Converting media.
(Media will continue converting in the background)
Friday 21st July
A great, big well done to these seven children who have had 100% attendance for the whole of this year!
Also well done to all those children who got 100% attendance this term.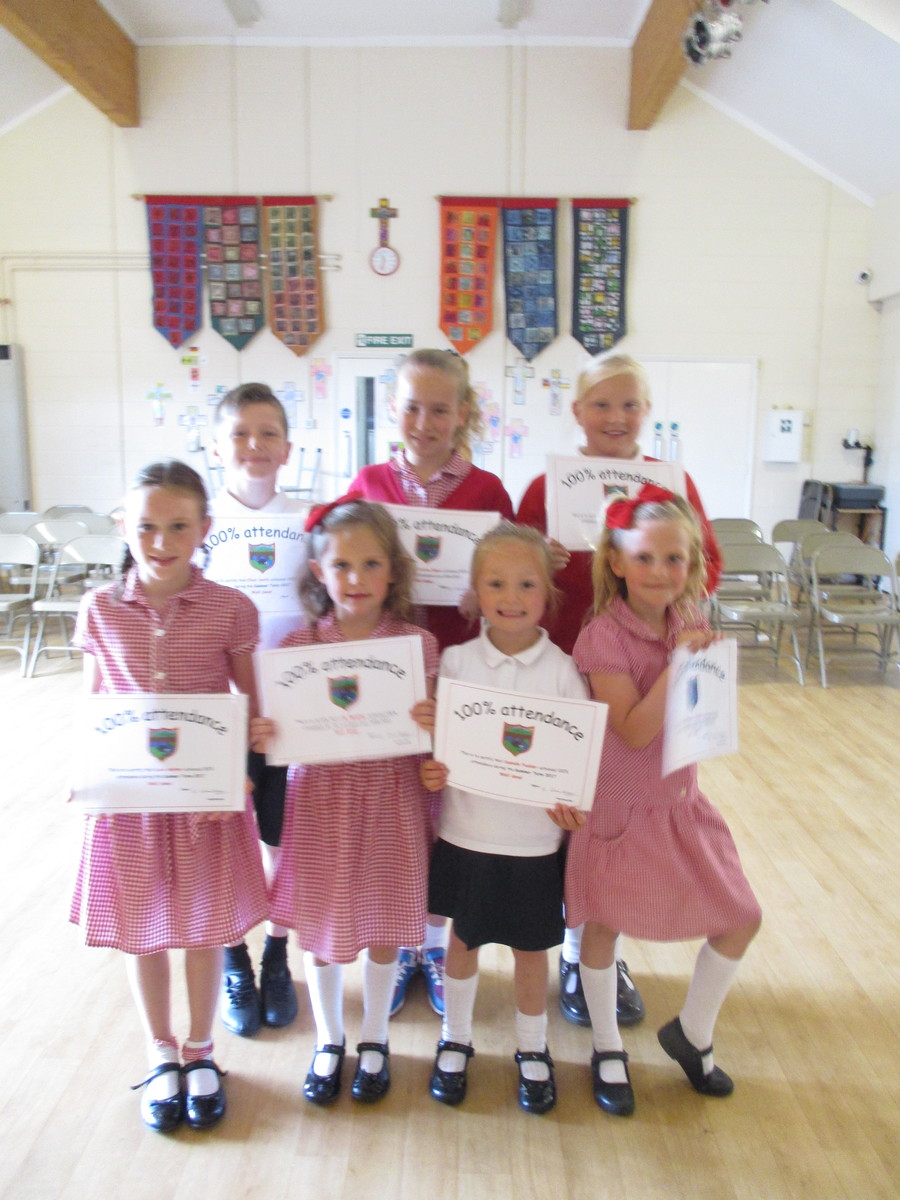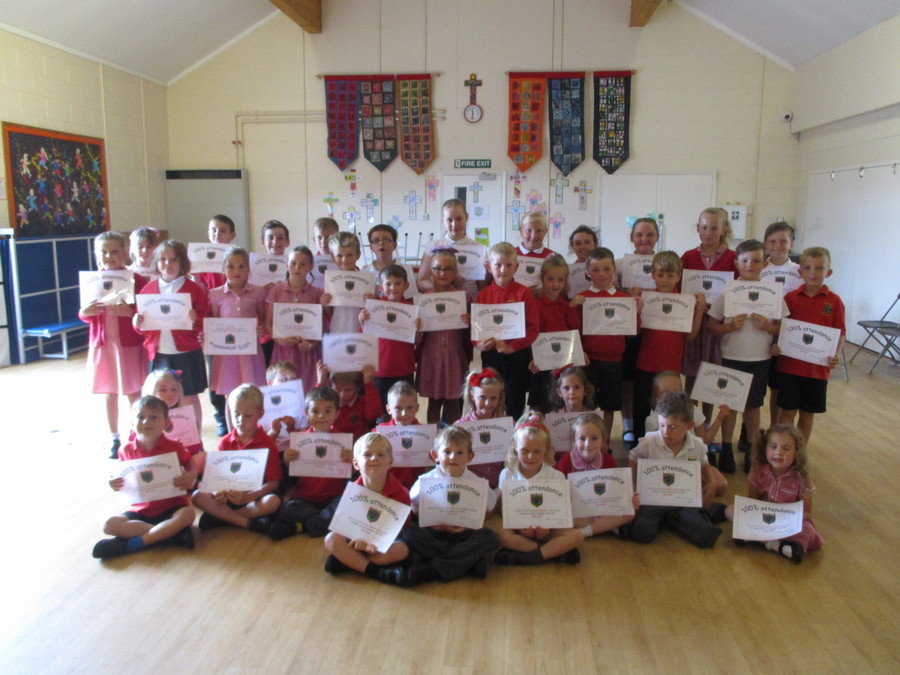 Thursday 20th July
Everyone's had a great time on the climbing wall today, even Mrs Shankland!
Tuesday 18th July
Another glorious walk around Buttermere. Well done everyone for getting round in super quick time, especially the Reception children!
Monday 17th July
We had a lovely assembly today for Ms Ford and Mrs Wilson who are both taking early retirement this week, after 11 and 18 years respectively in school. We really will miss them both.
Monday 17th July
A lovely sunny day and a great sports day too!
Saturday 15th July
It was a wet day for the carnival this year, but that didn't stop our Oompa Loompas! The children had a fantastic time and they all looked brilliant!
Saturday 15th July
Another great Parkrun event for running club, albeit slightly wet!! Well done everyone on completing the course.
Thursday 13th July
Some great pictures from today's team point trip to Keswick in glorious sunshine. Ennerdale were this years winners, well done!
Wednesday 12th July
More lovely pictures from today's performance of Charlie and the Chocolate factory. Well done to all who took part, it was a great show!
Friday 7th July
We had our dress rehearsal for Charlie and the Chocolate Factory today. Everyone performed well and we're now looking forward to the shows next Wednesday.
Saturday 1st July
Cycling club had a great cycle to Whitehaven with Mrs Shankland and Mr Kirkup, one of our Directors, today. Here they are enjoying their well earned chips on the harbour!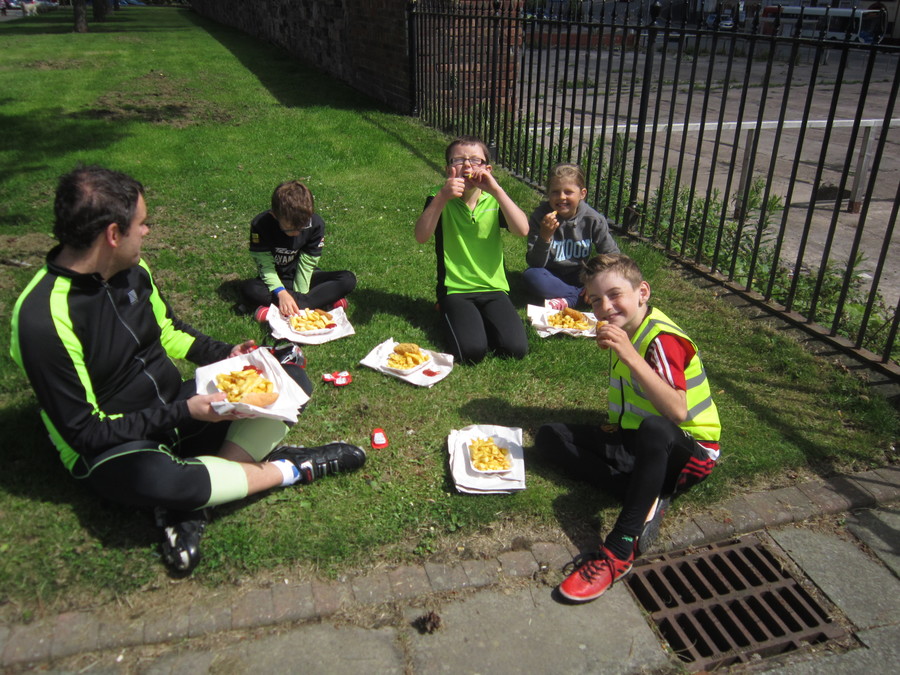 This week has been our RE week with a focus on Hinduism, which the children all enjoyed. We held an assembly to share just some of the work the children have been doing. Look on class pages for more pictures, especially of our visitor from the Hinduism Education Services.
Class 2 shared the story of Holi
Class 3 shared their work on Divali
Class 4 shared their work on the story of Hanuman
Class 5 shared their work on Hindu Gods
Class 6 shared their work on Hindu Gods
Friday 16th June
Really proud of all our children who achieved their 100 Mile Challenge Certificate in celebration assembly today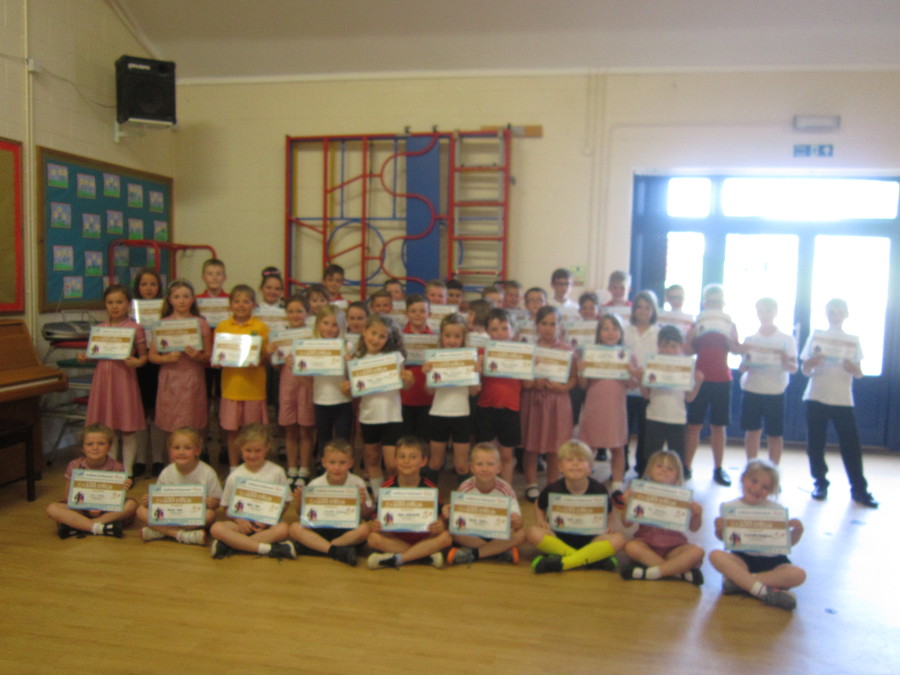 Layton also achieved his 100 Mile Challenge but missed the photo shoot! Well done to him too.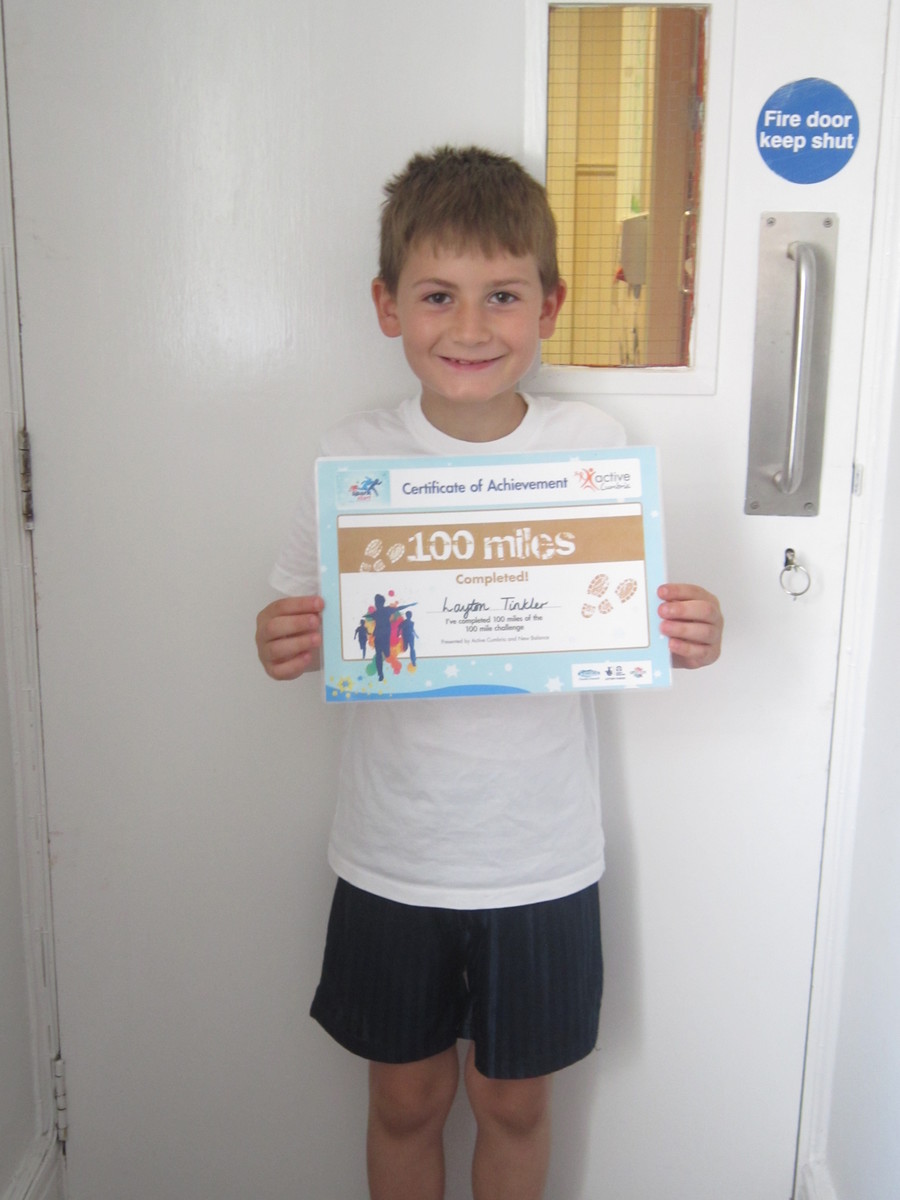 Some great shots from the Allerdale Kwik Cricket Tournament in Workington!
Sunday 14th May
Enjoying refreshments in the sunshine after a very successful Treasure Hunt around the village organised by KABS and Ray Dobie
Sunday 14th May
Our mixed Year 5/6 football team reached the final of the Rotary Football Competition, playing superbly. Unfortunately they were beaten by All Saints 2-0 in a great game so well done to them all!
Monday 8th May
We were visited by a representative from the Diabetic Association where we handed over a cheque for £150 which was money raised through the Year 5/6 Bright Stars project. She also explained to KS2 children how Diabetes is caused and the work she does raising awareness of the illness.
Thursday 6th April
Year 5/6 went to Energus for the Bright Stars presentation afternoon. Although we didn't win one of the 5 specific prizes this year it was great to be part of the celebrations this afternoon and we received our award for taking part while we were there. There were 30 schools in the event this year.
Thursday 6th April
Orienteering at Netherhall was dry tonight! There were some good times and PBs so well done everyone.
Wednesday 5th April
Today was our Easter Fayre. Lots of parents and friends came to look at the lovely cakes and bonnets all the children had made. Brogan and Millie went head to head in the Egg Dump Final with Millie ending up the winner. The Easter Bonnet Competition was won by Christopher in Nursery, runner up Nixie and in Reception by Harry, runner up William. The Easter Cake Competition was won in Year 1 by Charlotte, runner up Harry and in Year 2 by Willow, runner up Danny. KS2 winners were Samson and Lauren in Year 3, Joe and Maisie in Year 4, Jessica and Megan in Year 5 and Bethan and Dana in Year 6.
Tuesday 4th April
Richard from Active Cumbria came to school to present Bethan with her prize for winning the 'Design a Mascot' competition. Spirit is the name of the new mascot Bethan designed which will be used by Active Cumbria at this years School Games. The competion was advertised as a Christmas curriculum competition and Spirit the Bear was chosen by young judge, Olivia Mason, Cross Country Champion and Junior Sports Personality of the Year 2016. Bethan won a £50 Amazon voucher and will be present at the School Games when her mascot will be on parade. We're really proud of her as there were 400 entries in the competition so a huge well done!!
Monday 3rd April
We had a lovely Easter service in Christchurch today attended by parents and friends of school. All the children sang beautifully and every class shared a very special message, through poetry, about the true meaning of Easter. Thank you to Godfrey for helping lead the event.
Saturday 1st April
Well done to all those children and parents who took part in the Workington Parkrun this morning. Some great PBs and everyone finished the 5K course! Not the best of Parkruns for Mrs S....and certainly not a PB!!
Give yourselves a big pat on the back everyone!
Thursday 30th March
First orienteering event of the season was at Whitehaven Academy today. It was very wet, muddy and windy!! Wet seems to have been the theme for Mrs Shankland this week! Thanks Amanda for helping out.
Wednesday 29th March
It was the Cockermouth Schools Year 3/4 tennis tournament today.....very, very wet!! We persevered and did a huge range of tennis skill training and everyone seemed to have a good time!! Big thank you to Mrs Scales for helping us....she also got very wet!
Tuesday 28th March
The choir took part in Mr Strachan's annual Joint Schools Choir Concert at Dearham School. The performance was really good and everyone enjoyed the show. There was even a school from Newcastle who travelled over to take part!
Monday 27th March
The NISCU team came to share a brilliant Easter assembly with everyone in school. Well done to those Year 5 children who helped them out!
Friday 24th March
School Council organised Red Nose Day with a theme of non uniform, wacky hair and cake eating!! They raised the fantastic total of £440 so a big pat on the back to everyone!
Friday 17th March
Well done to all the children in KS2 for their fantastic performance at the weekend at The Sands Centre, Carlisle taking part in the Be Your Best Foundation Rock Challenge 2017 event! They were all brilliant. More photos to come.
Thursday 16th March
Well done to Cameron on his third place in the Cockermouth Speakers Club 'Young Speaker of the Year Competition 2017'. Cameron's presentation of his 'Vision for the Future' was an extremely well written piece and presented so articulately by him. Very proud of you Cameron!
Wednesday 15th March
Sam Ayers came from Bodyfit to lead running club. For more pictures click on the running tab within clubs.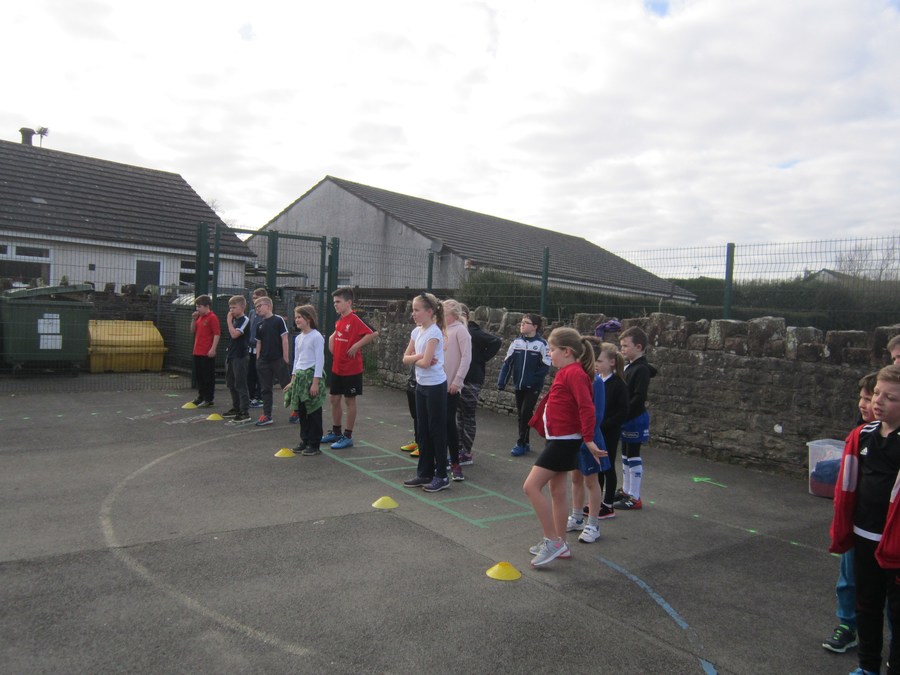 Friday 10th March
Over 40 parents and friends attended the Bright Stars afternoon tea event which was organised as part of the Young Enterprise project Class 6 are involved in. The final amount braised by them for the whole project is a tremendous £600! We now await the judges decision later this week to see if we have won a special award which range from 'Best Business Idea' to 'Most Money Raised'
Wednesday 1st February
Well done to our mixed Year 3/4 hockey team who reached the quarter finals of a tournament to decide who was representing Allerdale in a County hockey event. They all played really well and were only narrowly beaten in their last game.
Saturday 28th January
Our 5 a side football team had a great day at The Sands on Saturday. They won their first three games resoundingly and lost the fourth by one goal to narrowly miss going through to the next round. Well done to all the boys who took part and their parents for supporting us during the day.
Monday 9th January 2017
Dave from 'Box2bfit' came for the day and worked with all the children in school. Everyone had a great time learning how to get fit and more importantly, how to have a positive attitude towards fitness.
Tuesday 20th December
Our final event of 2016 was Carols Round the Tree. The hall was full, Reverend Butland played the piano and Charleigh used sign language to accompany the children singing 'We Wish You A Merry Christmas'
Tuesday 20th December
A huge well done to those children who received certificates for 100% attendance this term. Keep it up in the Spring!
Monday 19th December
Christmas lunch was delicious today....thank you to Mrs Farley and her team, not just for today but for our lovely lunches all year round! Lots of our friends who help and volunteer in school came along today too.
We had a lovely church service in Christchurch this morning. Lots of parents and family members came to listen to songs and poems from all our children. Thank you to Godfrey for making us feel so welcome.
Friday 16th December
KS2 children had a great time this afternoon at their Christmas party!
Friday 16th December
A representative from The Royal British Legion came to school to present us with an award for raising £212.72 this year during their poppy appeal. Norman Marshall from the village came along too as he works hard to deliver poppy goods to sell, including here in school.
This year we have supported lots of charities including Cancer Research, Children in Need, Team Evie and Red Nose Day.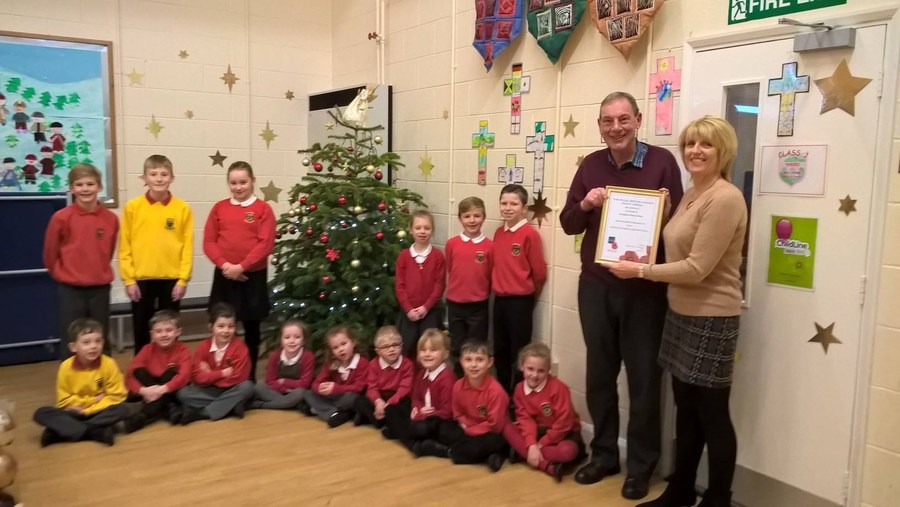 Tuesday 13th December
What a lovely nativity story from our Nursery children today! Lots of parents and family members came to watch them sing and share their story about the birth of a special baby. Well done to Mrs Wynne and Ms Cockton for all their hard work too!
Saturday 10th December
Evan, Zach, Daniel, Rory, Ethan, Jake, Jessica, Leanne, Erin, Oliver, Elliot and Anya plus Amanda and Mrs S completed the Workington Parkrun today. A great time was had by all, supported by Sam and Bodyfit runners. Well done!
It was Christmas Jumper Day today and everyone looked fantastic! Well done and thank you for raising £75 for Team Evie.
Thursday 8th December
Well done to the team of 12 Year 5/6 children who took part in the local consortium's Sports Hall Athletic Competition today.
Wednesday 7th December
Our nativity dress rehearsal took place today. Well done everyone for performing so well in front of an invited group of villagers!
Wednesday 30th November
A great time was had by all at our Christmas Fayre today. We also managed to raise the amazing total of £1010!! Well done everyone and thank you.
Wednesday 30th November
Staff have made the school look lovely for Christmas.
Wednesday 30th November
Rehearsals are going well for this year's nativity 'The Dancing Sheep' although we're not too sure Mr Strachan's looking very happy!!
Monday 28th November
We had special visitors who came with Godfrey to assembly. They shared a very special story about the hope that Jesus brings to our lives and how he is a light to shine over us all.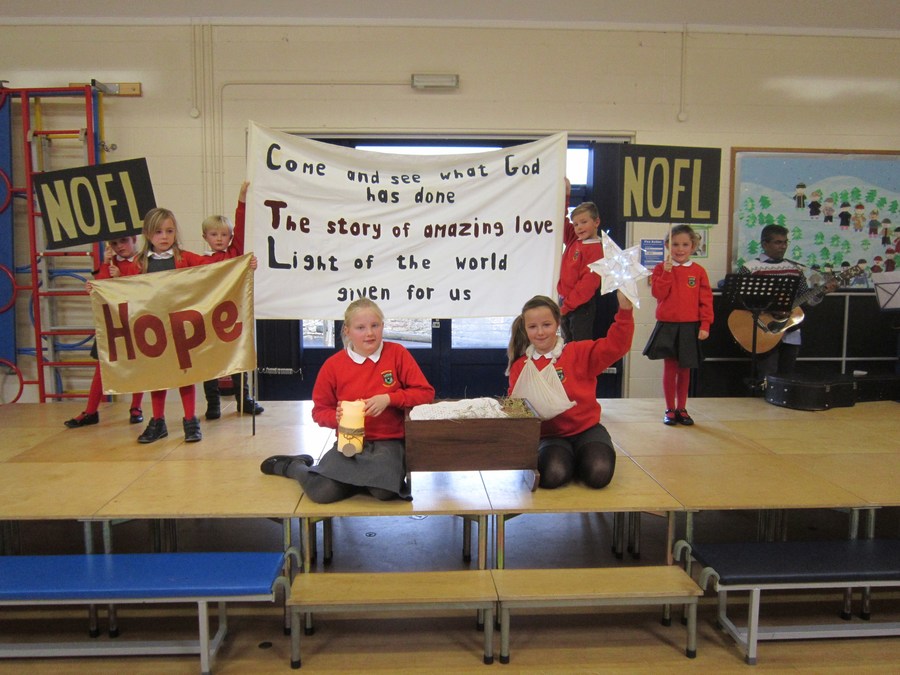 Thursday 17th November
Faye receiving a cheque kindly donated by The Punchbowl Inn towards our new mini bus together with Mrs Davis and Mrs Rourke.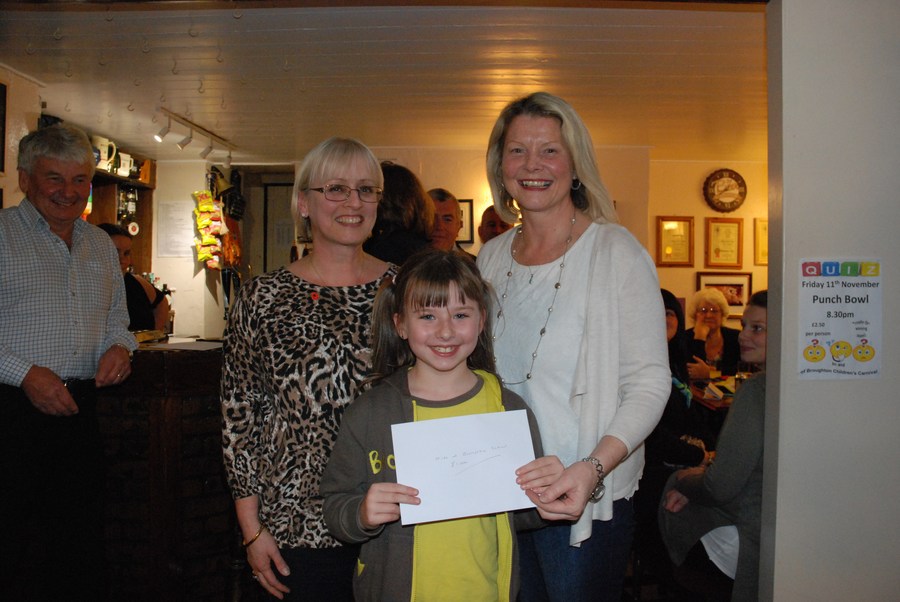 NISCU came and shared a lovely assembly with all our children exploring the theme of Christmas and what it means to Christians everywhere.
Tuesday 22nd November
Our shoeboxes were collected to be sent abroad and hopefully make a child's Christmas a lot happier this year.
Friday 18th November
It was Children in Need today and everyone came to school in their PJs to raise money for this great cause. There was lots of cakes for sale and we raised the grand total of £372.50!! Well done everyone.
Tuesday 15th November
We gathered today to remember Corporal Roland Dalton, a Broughton lad, who was killed in the Battle of the Somme and died 100 years ago today. He was buried with full military honours in the graveyard of Christchurch.
Friday 11th November
What a lovely Rememberance assembly we had today, led by Class 4. Lots of interesting memories and artefacts to share about their grandparents who had been involved in the war. Well done Year 2!
A great time was had by all at the KABS Hallowe'en disco, with some brilliant costumes and face painting on display!
Monday 17th October
Archdeacon Richard came to take our assembly this morning. He talked about sharing, harvest and the Jewish festival of Sukkot. Some children enjoyed holding his home grown vegetables and explaining why some were very healthy whereas some were rotten and not edible.
Friday 7th October
Class 3 led a lovely Harvest Festival celebration in Christchurch. There were lots of parents there too.
Wednesday 5th October
Dave from 'Skip2bfit' spent a day in school running skipping classes and an after school session for parents.
Monday 3rd October
Reverend Butland presented our new Playtime Leaders with their hoodies in assembly.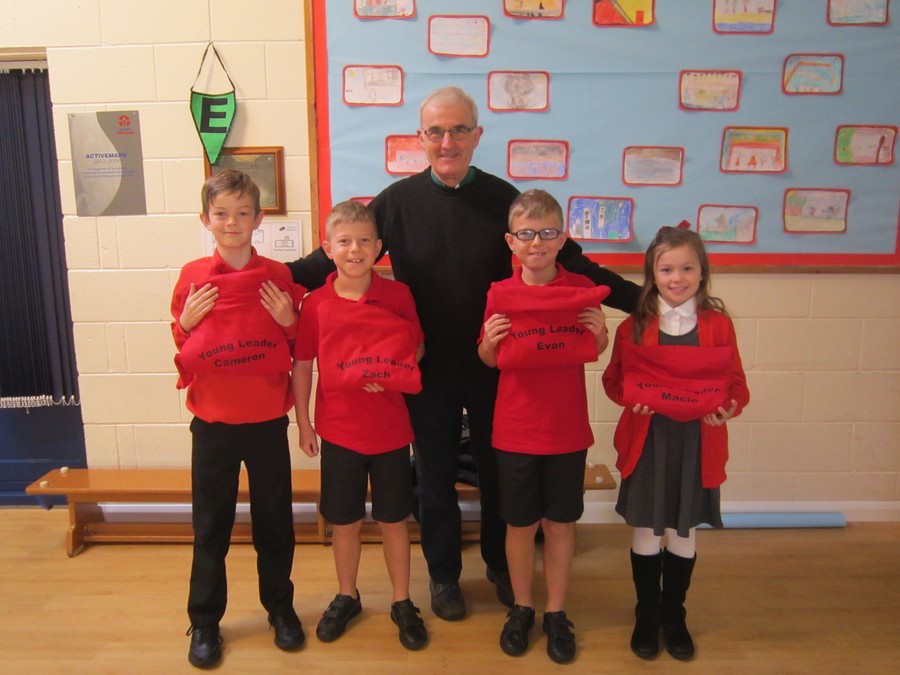 Key-Stage two Summer Performance: Bugsey Malone
Our children from Years 5 and 6 put on fantastic show based on the film Bugsey Malone. The acting and the costumes were amazing and we got lots of very positive feedback. Well done Years 5 and 6!
Year 6 Leavers Trip: Blackpool
Our Year 6's enjoyed a super day on their leavers trip, at the Pleasure Beach, in the glorious sunshine.
&nbsp
&nbsp
Latest News
Please choose from the list below.
&nbsp