Teaching Staff
Mrs Karen Shankland - Headteacher

I became Head at Broughton fifteen years ago having previously been Deputy Head at nearby Bridekirk Dovenby School. Although there have been challenges along the way, I love my job! I'm very lucky to have an extremely dedicated staff, supportive parents and lovely children. I still teach throughout the school two afternoons a week which I really enjoy. I love going on residentials, being involved in lots of after school clubs, particularly our cycling club, seeing all our children have fun in school whilst learning at the same time. In preparation for my retirement next summer, I now work four days a week, having Wednesdays off. When I get time I enjoy walking, cycling, running and taking lots of holidays!

Mrs Lindsaye Wynne - Teacher

Hello! I joined Broughton Primary School in January 2013 and I teach Nursery in Class 1 each morning. I have worked in Early Years for many years, most recently at Braithwaite and Borrowdale schools. In my spare time I enjoy walking the fells with my children, gardening and cooking.

Miss Pat Ford - Forest School Leader

I'm Pat Ford and after taking early retirement from school in August 2017, I now run Forest School sessions at Broughton Primary. I qualified as a Level 3 instructor in 2014 and began taking groups to our site at Wythop Woods on the western side of Bassenthwaite Woods. I now take two sessions every Thursday and am lucky enough to work across the whole Primary age range this year. I love being in the outdoors and introducing the children to the many things the sessions offer. We learn about the forest, the animals and plants, how to use tools and light fires and how to work together as a group and be independent and resourceful learners. But most of all, we have fun in the forest!

Miss Kelly Lightfoot - Teacher

Hello, I'm Miss Lightfoot and this is my third year of teaching here at Broughton. I am the Year 1 class teacher but as well as this I deliver all of the ICT throughout the school. I previously studied Sociology at Northumbria University before coming back home to Cumbria to do my PGCE at 'CPTT'. In my spare time I enjoy getting out and about in the Lake District, trying any new activities that my friends and I find.

Mrs Anna Bewsher - Deputy Headteacher

Hello! My name is Mrs. Anna Bewsher. I have worked at Broughton Primary School for 11 years now in classes throughout Key-Stage 2. I really enjoy working in a village school which is at the heart of its community and it has been so lovely to get to know lots of families in the village over the years! I currently work full-time and teach every morning in Class 6 (Years 5/6 children) and undertake leadership and management tasks during the afternoon as part of my role as Deputy Headteacher. I am also the SENDCo in school. Additionally, I am a parent to twin girls who are currently in Year 3 and so I also get involved in KABS fund-raising events.

Miss Emily Eve- Teacher Currently on maternity leave

Hello! I am the teacher in Class 4 (Year 2 and 3). This is my fourth year of teaching after completing a degree in Early Primary Education at Northumbria University. I am really looking forward to working with the children in Class 4 and taking on a new challenge in a different year group. I am the PE Co-ordinator at school which is a role I thoroughly enjoy. I am also the Maths Co-ordinator this year and leading the school in working towards a Mastery approach to mathematics, working closely with the 'North, North West Maths Hub'. I am very excited about our school's entry to Rock Challenge as I organise and choreograph this with the help from other staff and parents.

Mrs Lynsey Turpin - Teacher

This is my fourth year at Broughton Primary, where I was initially employed as a part-time Senior Teaching Assistant. I qualified from University of Cumbria in 2010 with a degree in Early Years Education, but after 4 years as a full-time KS1 teacher, decided to reduce my working commitments to allow more time with my two young children. I am currently teaching five afternoons per week in Class 6 alongside Mrs Bewsher, which I am thoroughly enjoying. I am also the school's Kidsafe leader delivering the programme from Year 1-6 and I now have responsibility for the School Council.

Mr Stephen Strachan - Music Teacher

I studied music at Durham University followed by a P.G.C.E in Primary teaching at Charlotte Mason college Ambleside. I didn't last long at "normal" class teaching so decided to build up schools who wanted a music specialist. I now work full time doing this. I also play various instruments in a band and do gigs roughly twice a month. My other hobbies include mountain running (or should I say walking) and collecting 1960's/1970's teapots.
Miss Danielle Robinson- Teacher Currently on maternity leave
Hello, I'm Miss Robinson. I currently teach Year 2 in Class 4 and this is my first year of teaching at Broughton Primary School. I have been teaching for 5 years and so far in my career I have taught in both Key stages. I have a keen interest in Literacy, so I am delighted to be the English Co-ordinator this year. I enjoy running in my spare time and on Thursday evenings with Key stage 2 at running club.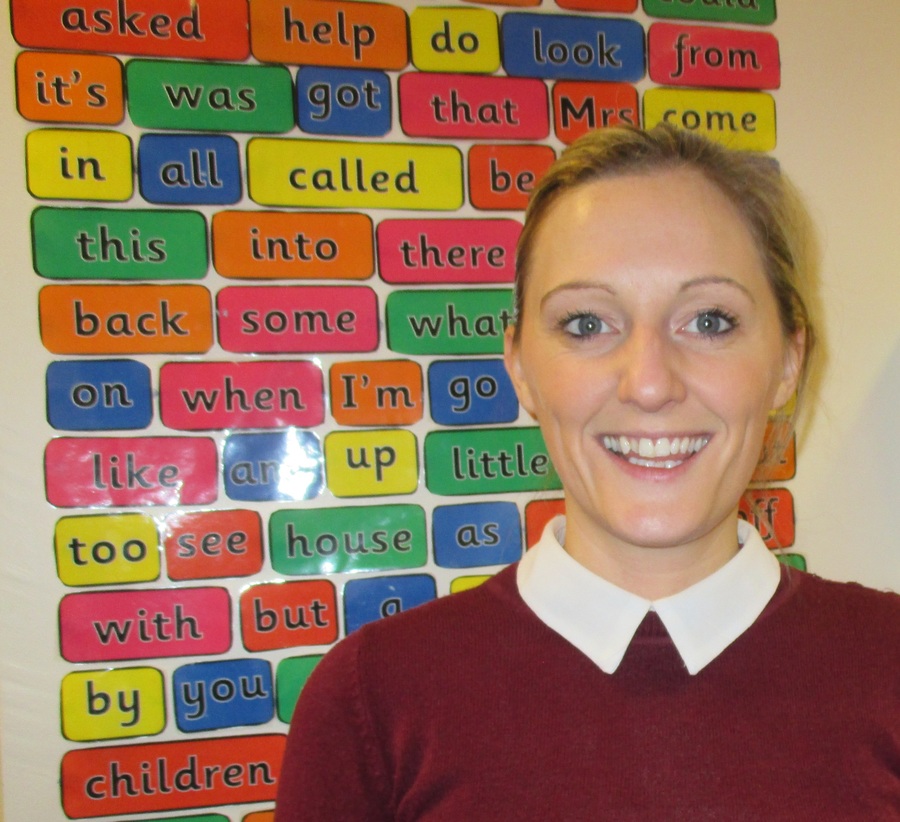 Miss Nicole Khan- Teacher
Hello, I am Miss Khan and this is my second year here at Broughton Primary. Previously I have taught in other local Cumbrian Schools and near London Gatwick Airport. This is my fourth year teaching since graduating with a Primary Teaching Degree from Cumbria University. I am the Reception Class Teacher (Class 2). Outside school I enjoy walking, reading a good book and even a bit of wild swimming in the warmer months of the year!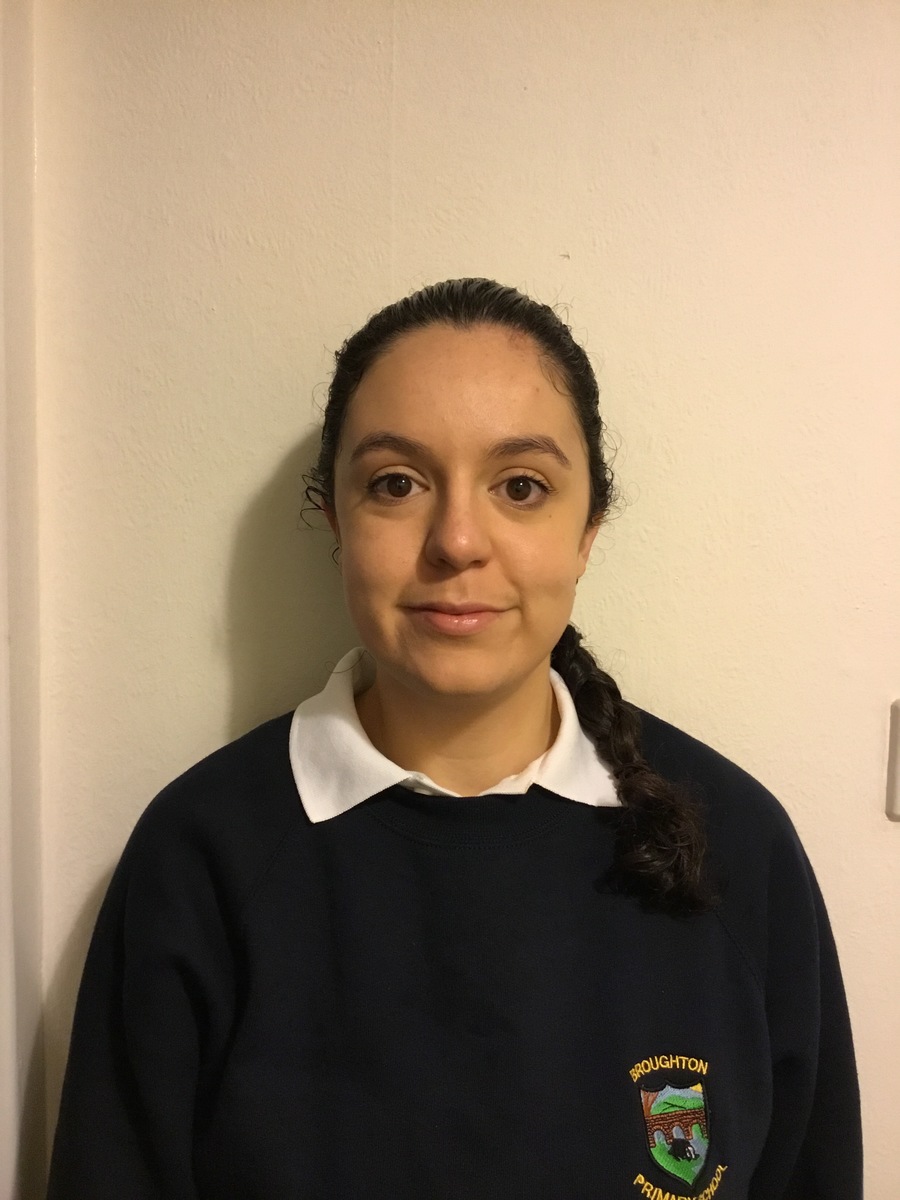 Mr M Langstaff - Teacher
Hello, I am Mr Langstaff, a Newly Qualified Teacher and I am delighted to be part of the Broughton School team. I qualified from Cumbria Primary Teacher Training in July 2018 and I am very excited to start my career here at Broughton. I studied (BSc Hons) Psychology at The University of Liverpool from 2014-2017 and I acheived a 2:1. I also love football, I have been fortunate enough to be a part of a number of football teams, both locally and for University and I am eager to start my own after school football team with the children.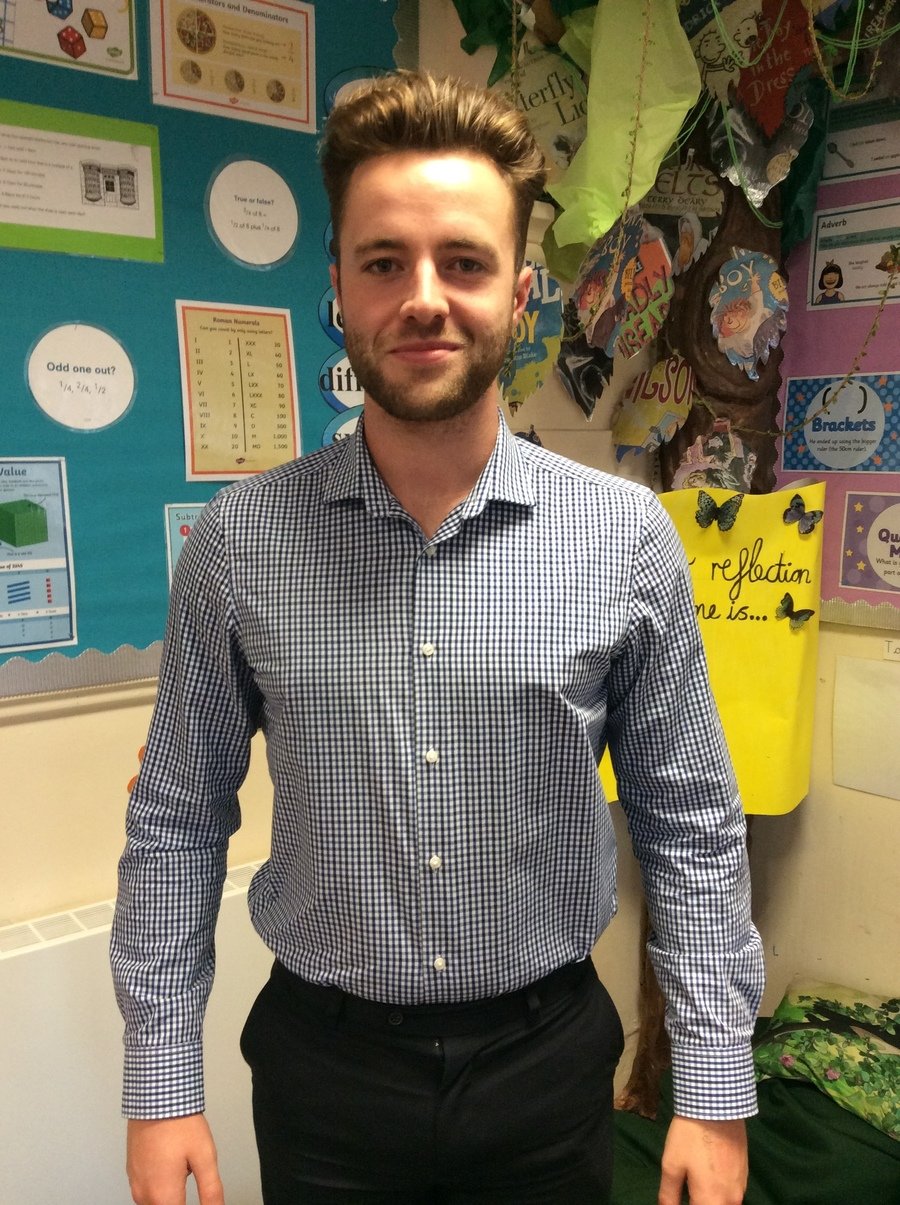 Mrs V Bell - French Teacher
Hello, my name is Mrs Bell. I have been fortunate enough to work at Broughton Primary School for five years now. Initially, I worked as a Senior Teaching Assistant in Key Stage 2 and most recently in Key Stage 1. Now however, my role has changed completely. I now teach French (I have a degree in Modern Languages) to the whole school during the 'carousel' on a Wednesday afternoon. I am really enjoying it and the children are too. We are learning to count in French confidently, to talk about various topics and to translate from English into French and vice-versa. We also enjoy learning new French songs and rhymes to help our language skills! Outside of school, I enjoy walking my Springer-spaniel Maya and going on holiday.